The Queen has joined the Duchess of Cornwall to see dogs show how they can identify diseases with a single sniff.
Camilla is patron of the charity Medical Detection Dogs – one of the world's leading organisations in using the animals to help diagnose serious illnesses.
The charity marked its 10th anniversary with a demonstration in the Royal Mews at Buckingham Palace, in the presence of the Queen who is known for her love of dogs.
The Queen and Camilla observed the dogs which are more sensitive and reliable than machines.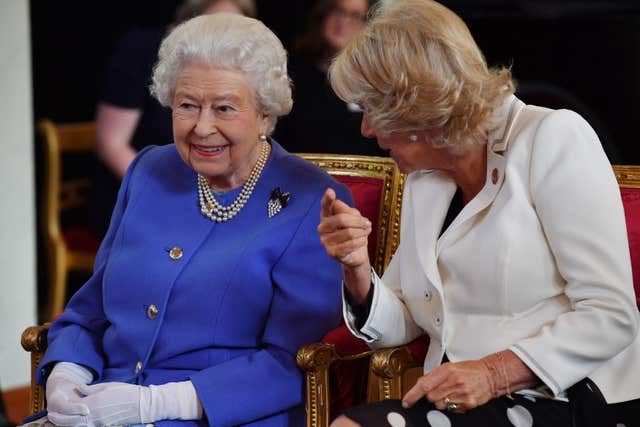 They watched as cocker spaniel Kizzy and black labrador Peanut were put through their paces identifying bladder cancer and Parkinson's disease from patient samples.
Both dogs identified the correct samples in a matter of seconds.
Medical Detection Dogs aims to transform disease detection by harnessing the smelling power of dogs to develop tests for a range of life-threatening conditions including cancer.
In trials, the dogs have proved to be 93% reliable, significantly higher than many existing tests.
Early detection and diagnoses of cancer and other diseases can lead to earlier treatment and increased survival rates.
The charity trains assistance dogs for people with long-term, life-threatening conditions.
In most cases, the medical alert assistance dogs help people suffering from type one diabetes, who get no warning signs when a hypoglycaemic or hyperglycaemic attack is about to occur.
The dogs are trained to detect changes in blood sugar levels and alert them to take insulin or eat sugar.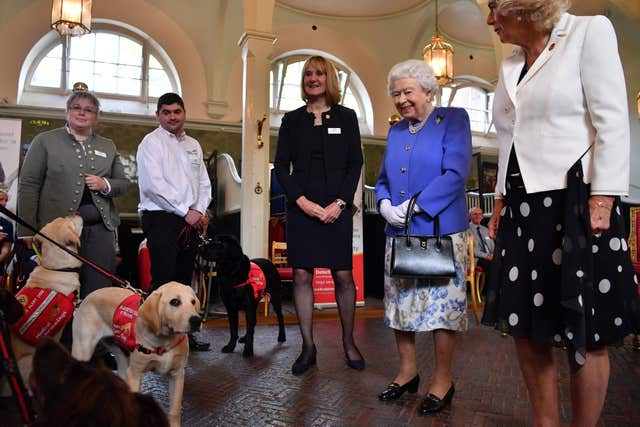 Claire Pesterfield, 45, from Hitchin, has type one diabetes and depends on her dog Magic, a labrador-retriever cross, to alert her when her blood sugar levels are getting too low.
"If it wasn't for Magic I probably would have died many years ago," she said, adding that he has alerted her about 4,500 times so far.
If Ms Pesterfield is upstairs in the bath and Magic is downstairs sleeping, the dog can still sense when the blood sugar levels are low and will go upstairs.
"It certainly is amazing and it still blows my mind," she said.
Jodie Griffin, 28, who has postural orthostatic tachycardia syndrome (Pots) was alerted by her dog Nimbus during the demo at the palace.
The labrador-golden retriever cross warned her she may soon fall unconscious and should lie down to alleviate the symptoms.
Ms Griffin, from Cannock in Staffordshire, said: "He's just changed my life so much.
"Before I had him I used to collapse in the street or down the stairs. I fainted in the road before. But he picks it up every single time.
"Because he gives me enough warning, lying down reduces the symptoms, reduces the episode."
Ms Griffin, a pet portrait artist, met the Queen and told her Nimbus is her best friend.
"She sounded really interested," she said of the Queen.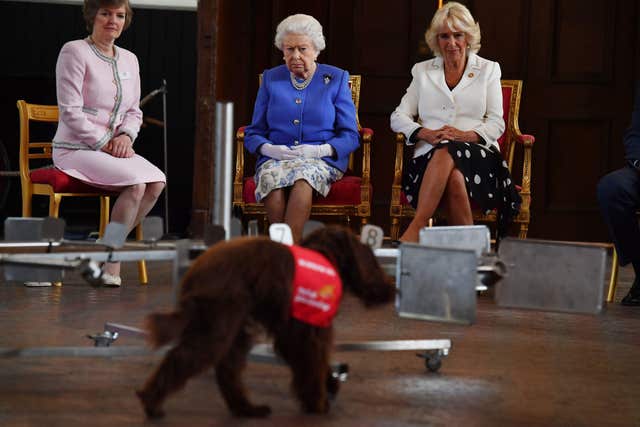 The monarch was greeted by a line-up of dogs after the demo, and chatted to the charity's chief executive Claire Guest, who said it was an "honour" to showcase their work for the Queen and Camilla.
Ms Guest told the crowd about her own dog Daisy, who alerted her to a lump in her breast which proved to be cancer some years ago.
"Ten years ago I co-founded this charity and a decade on, we have made very exciting progress.
"This week we have announced our collaboration with a leading global research facility based in the USA, Massachusetts Institute of Technology (MIT), to develop a machine capable of detecting cancer as accurately as the dogs," she said.