Rescuers are continuing the search for four people missing after an explosion at a chocolate factory in Pennsylvania which killed three people.
Crews using dogs and imaging equipment continued to scour the rubble after the blast that happened just before 5pm on Friday at the RM Palmer plant in the borough of West Reading, about 60 miles (96km) north-west of Philadelphia.
West Reading Borough Chief of Police Wayne Holben said the death toll rose with the discovery of a third body at the site on Saturday. The Berks County Medical Examiner and Coroner also confirmed three fatalities.
Borough Fire Chief Chad Moyer said four people remained missing as emergency personnel continued searching for victims and state and local fire investigators examined the scene to determine a cause.
"Due to the violence of the explosion and the amount of time that has passed, the chance of finding survivors is decreasing rapidly," he said. "However, please be assured that our primary goal is accounting for all missing individuals and reuniting them with their loved ones."
Earlier, Mr Holben said one person was pulled alive from the rubble overnight and that "provides hope that others still may be found".
Officials said dogs and imaging equipment were being used to look for signs of life during the careful removal of debris.
The blast destroyed one building and damaged a neighbouring one. Roads near the site will be closed until 8am on Monday, Mr Holben said.
Mayor Samantha Kaag said of the explosion site: "It's pretty levelled. The building in the front, with the church and the apartments, the explosion was so big that it moved that building four feet forward."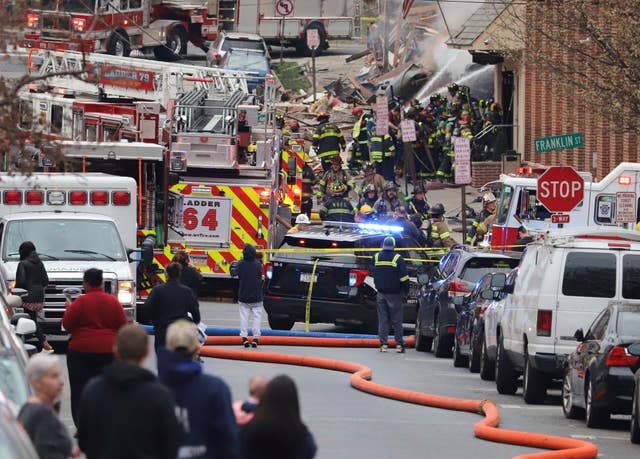 Reading Hospital said it had received 10 patients, of whom one was transferred to Lehigh Valley Hospital and another to Penn State Health St Joseph Medical Centre. Two were admitted to Reading Hospital, and the others were later discharged, officials said.
UGI Utilities said crews were brought in after the blast caused a gas leak that was helping to fuel the fire.
"We did not receive any calls regarding a gas leak or gas order prior to the incident, but we are co-operating with the investigation and part of that will be to check all our facilities in the vicinity," UGI spokesman Joseph Swope said.
RM Palmer said in a statement late on Saturday that everyone at the company was "devastated by the tragic events" and "focused on supporting our employees and their families".
"We have lost close friends and colleagues, and our thoughts and prayers are with the families and friends of all who have been impacted," the company said, expressing gratitude to the "extraordinary efforts" of first responders and the support of the Reading community, "which has been home to our business for more than 70 years".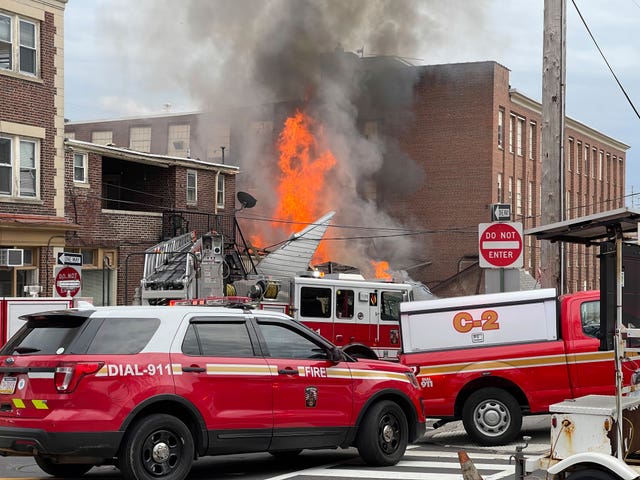 The company said it is anxious to get in touch with its employees and their families but its email, phones and other communication systems are down, and it is relying on first responders and disaster recovery organisations to provide information to affected families.
It added that it would be "providing additional information and making contact with employees, impacted families, and the community as soon as possible".
Mayor Kaag said people were asked to move back about a block in each direction, but no evacuations were ordered. She had issued an emergency declaration only to allow more resources for first responders.
Borough manager Dean Murray said some residents were displaced from the damaged apartment building.
Governor Josh Shapiro, who visited the site along with the emergency management agency director, vowed "any and all commonwealth resources needed to support ongoing recovery efforts – in addition to the extensive assets that have already been deployed".
A team of structural engineers and search dogs from a state urban rescue taskforce have been assisting, and additional personnel arrived on Saturday, he said. A state police fire marshal is also assisting in the investigation, he said.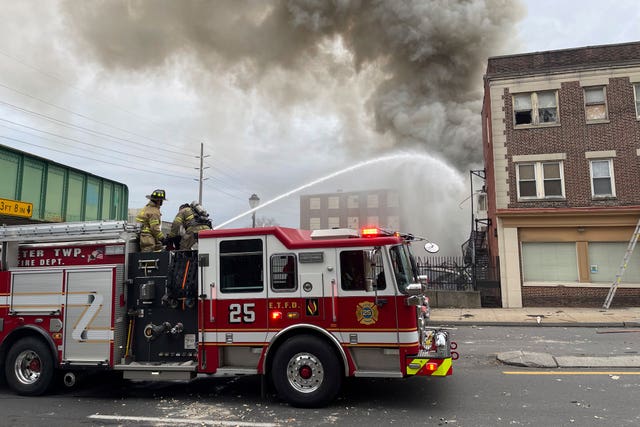 Philip Wert, vice president of West Reading Council, said the building had been constructed in the late 1950s or early 1960s, and officials had to "access our archive to pull the blueprints … in order to get a better layout of the building and the mechanicals and the utilities, where things are"
"The silver lining in all this is someone was found alive, someone was found alive that was in rubble, not knowing whether they were going to live or die, and fortunately we found that person and they've got a second chance, and hopefully fingers crossed we're going to find more," he said.
Frank Gonzalez stood on a hill overlooking the blast site, watching the rubble being cleared. He said his sister, Diana Cedeno, was working at the plant at the time of the blast and was among the missing.
"It's not good. It's just stressful waiting, not knowing," he said, expressing frustration at what he perceived as a lack of communication from authorities about the search. "We keep reaching out, bugging, keeping her name alive just in case she is in there and says her name."
He said his sister has two adult children, including a son who is deployed overseas. She has a side job decorating for parties and has also been studying for ministry at her church, he said.
Mr Gonzalez said his son and nephew had also worked at the plant, but that his son had quit a few months ago "because he said he didn't like the smell of the gas that was in there".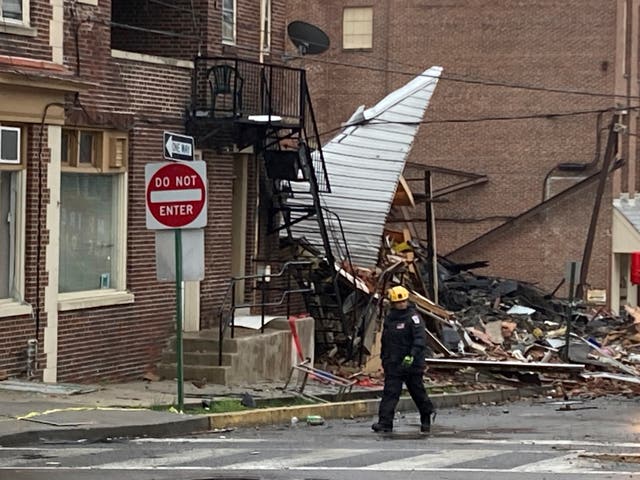 His son and nephew had complained about the smell to plant supervisors, who told them "It's all right. We got it. It's being handled. Don't worry about it", he said.
Frank DeJesus said his stepdaughter, Arelis Rivera Santiago, a Palmer employee, was working in the building next door at the time of the blast.
The ceiling caved in, and she had to crawl under machinery to make it out, he said.
He added that he rushed to the scene to find her "shaking and crying hysterically" and she was still too shaken to speak about what had happened.
Plant employees, including his stepdaughter, had complained about smelling gas throughout the day on Friday, he said.
"Everyone complained about smelling gas, and they kept making them work," he said. "The supervisors told them it was nothing. It was being taken care of."
A message was sent earlier to RM Palmer seeking comment about the blast.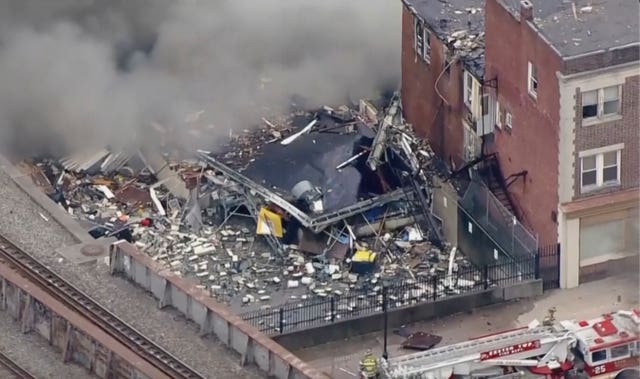 Doug Olexy was home from work and checking email when the blast shook his house, rattling windows and making the walls vibrate.
"It sounded like a bomb went off," he recalled. "I mean, all of our houses shook. I've never heard as loud of an explosion in my life."
He and his neighbours ran out on to the street immediately afterwards and were met by thick black smoke.
At first, Mr Olexy thought it was a train derailment because there are tracks nearby. Then he learned it was the Palmer plant, which he called a West Reading institution.
"Everybody knows Palmer chocolate," he said.
RM Palmer's website says it has been making chocolate novelties since 1948 and now has 850 employees at its West Reading headquarters.
Its Facebook page included entries earlier this month advertising Easter treats such as chocolate rabbits and "the newest milk chocolate hollow" in its "bunny family" as one with jelly beans inside.