A bigger-than-expected slowdown in inflation has fuelled hopes that the upward pressure on mortgage rates could start to ease.
Consumer Prices Index (CPI) inflation was 7.9% in June, down from 8.7% in May and its lowest rate since March 2022, according to the Office for National Statistics (ONS).
The Bank of England has been raising the base rate as a tool to quell stubbornly high inflation.
The latest inflation figures will raise hopes that rates do not need to climb as high as feared.
According to Moneyfactscompare.co.uk, the average two-year fixed-rate homeowner mortgage rate on the market on Wednesday is 6.81%, up from 6.78% on Tuesday.
The average five-year fixed residential mortgage rate is 6.33%, up from an 6.30% on Tuesday.
Andrew Montlake, managing director of mortgage brokers Coreco, said: "I suspect we will see a slight reprieve as swap rates (which lenders use to price their mortgages) ease a touch with the prospect that we are now closer to the top of the interest cycle than thought a few weeks ago.
"The Bank of England must now exercise some restraint."
Mr Montlake added: "Whilst this may not yet mean we see a wholesale fall in mortgage rates, lenders should at least now move away from sudden rate hikes and also enjoy a period of calm reflection."
Mark Grant, of business finance broker the Business Finance Branch, said: "This better-than-expected data is welcome but may not be good enough to prevent further interest rate rises."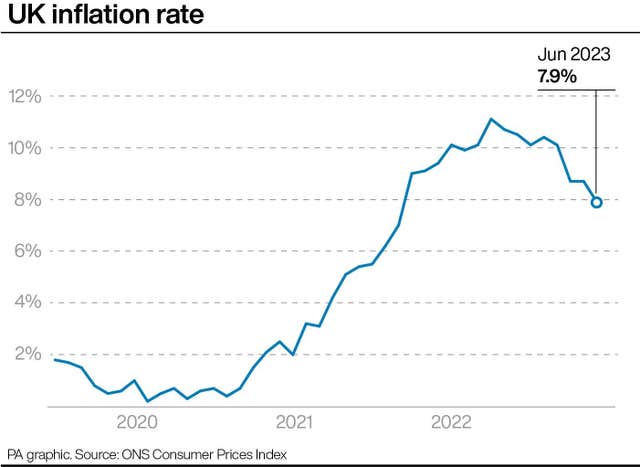 Martin Beck, chief economic adviser to the EY Item Club, said: "Looking ahead, the EY Item Club thinks inflation should continue to fall quickly over the rest of this year."
He added: "Taking today's data and what it says about the future, the EY Item Club thinks another (0.5 percentage point) rise in bank rate next month is now looking unlikely. The EY Item Club expects a (0.25 percentage point) increase, with perhaps one more to follow in September, before the rate rise cycle comes to a halt."
Mark Harris, chief executive of mortgage broker SPF Private Clients, said: "Finally, inflation is not only moving in the right direction but has picked up some pace.
"Swap rates have been calmer in the past few days, resulting in fewer product pulls from lenders. It seems as though all eyes are on the latest inflation figures to determine what happens next and whether recent market volatility has settled."
He said the markets had reacted favourably on Wednesday morning, adding: "If swaps continue to move in this direction, some lenders may start to reduce pricing.
"There is a strong argument for the Bank of England to pause interest rate rises for now, giving the market time to settle down and adjust. Consecutive base rate rises have been painful; it's time to let them take effect, rather than causing continued anxiety and distress for borrowers."
Chris Druce, senior research analyst at estate agent Knight Frank, said: "Thirteen consecutive base rate rises by the Bank of England since December 2021 to tame inflation has taken us to 5%, and pushed the cost of borrowing to a recent high.
"This has reduced buyers' spending power, weakened sentiment in the UK property market and acted as a drag on activity.
"Nerves are unlikely to be calmed and the outlook improved until buyers' can gauge where the new peak in the bank rate will be, allowing them to plan accordingly. Today's fall in inflation is therefore important but a step on a journey that's not yet complete."