Police have said they are not looking for anyone else after a man was arrested on suspicion of murdering a woman in a "domestic-related incident".
Officers launched a large-scale search for a "named suspect" after they were called to a property in the Ravensthorpe area of Dewsbury, West Yorkshire, on Sunday evening.
A West Yorkshire Police spokesman said a woman in her 20s was found seriously injured and she died a short time later.
On Monday, the force said a 35-year-old man had been arrested on suspicion of murder.
Witnesses said they saw a man covered in blood arrested by a large number of police who may have been armed about a quarter of mile from where the woman was found injured.
Detective Chief Superintendent Sarah Jones said: "A number of enquiries remain ongoing today into what has clearly been a very serious incident in Dewsbury.
"We recognise the concern and worry this will have caused to residents in the local area and are conducting an extensive investigation into what took place.
"A man has now been arrested on suspicion of murder and we are not looking for anyone else in connection with the matter which is being treated as a domestic-related incident.
"Local NPT (neighbourhood policing team) officers will be conducting extra patrols in the local area today to reassure residents."
Officers were called to the property on Dearnley Street at 6.43pm on Sunday, the force said.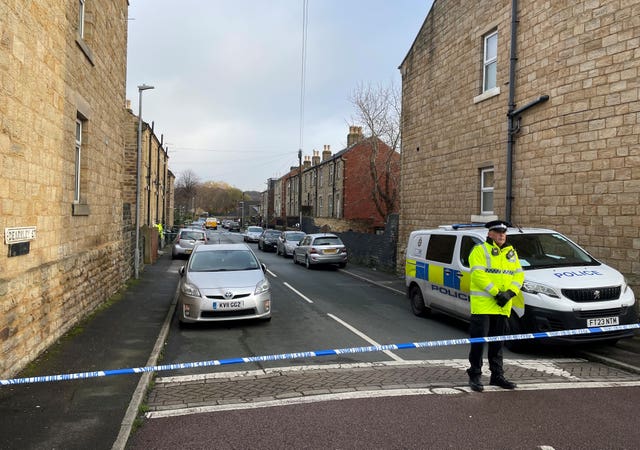 Dearnley Street, which is opposite a primary school, was sealed off on Monday morning with police guarding both ends and a further presence outside one of the terraced houses.
A 33-year-old man who said he just wanted to be referred as Asim said he saw the man being arrested near his home in Victoria Street in the early hours of Monday.
Asim said the arrest happened on a patch of green space at the end of the cul-de-sac, close to some garages.
He said he believed the topless man, who had blood on his body, had been hiding in that area during the huge search and was eventually spotted by a police drone.
"It was traumatising, to be honest with you," Asim said.
"About 1.15am I came outside to have quick cigarette because I've got three kids in the house.
"All I heard was 'get on the floor now, get on the floor now'."
He said: "So, I've seen him on the floor. The next thing I know, one of police officers told someone else 'we have him in handcuffs now' and I thought 'thank God for that'."
Asim said: "One of the officers said 'excuse me mate, can you get back inside the house now, there's blood everywhere'."
He said: "There were police everywhere, like The Bill back in the day.
"There were cop vans all down the street.
"The street was lit up blue."
"It was scary. I feel for the kids more than anything."
Asim said he thought some of the police were armed but he could not be sure.
Neighbours said officers had been inspecting a trail of blood between the scene of the murder and the end of Victoria Street.
"I didn't see him with any weapons but what I did see and heard was atrocious," Asim said.
"It has its ups-and-downs round here – Ravensthorpe is Ravensthorpe. But for this to happen on your own doorstep? Around here it's all families."
Local people said they were scared as police flooded the area overnight before the man was arrested.
One woman who lives nearby said she could hear the force helicopter above her house.
She said "We were worried. It's a scary thing that's happened. It's on our doorstep, we've got children.
"My daughter was scared to death last night when we heard what had happened. She didn't want to go to sleep.
"She kept waking up saying 'has the man been found yet, has the man been found?'
"We went to check all the doors to make sure they were locked."
She said: "But no-one deserves this. My heart goes out to the family."
Ms Jones said anyone with information should contact West Yorkshire Police on 101 referencing crime number 13230642219 or online at www.westyorkshire.police.uk/livechat.
Information can also be given anonymously to the independent Crimestoppers charity on 0800 555 111.