England manager Sarina Wiegman believes Beth Mead has "shown enough" to earn her recall to the squad for the Lionesses' final Nations League fixtures.
It is a welcome return to the international fold for the 28-year-old Arsenal forward, who resumed club action last month after suffering an ACL injury last November and has now earned an England call-up for the first time in over a year.
Tottenham midfielder Grace Clinton and Manchester City goalkeeper Khiara Keating retain their places in the Lionesses' 23-player squad, having received their first senior call-ups in October.
England play their final two games of the year, starting with the Netherlands at Wembley on December 1 before facing Scotland at Hampden Park four days later and Wiegman is delighted to have Mead's experience for those games.
"It's really nice, she's played minutes, she's in a good place and still building too, but that was a very nice phone call, she was very happy," Wiegman told a press conference.
"We've had conversations all the time, we had conversations before September camp and during and in October too because she was already fully training and getting some minutes but I just wanted to see a little more and that's what we've seen now.
"Her health is really good so she can just go and she's showed of course in games that she's in a good place and we want her to keep growing and improving.
"She's shown enough to me and for my technical staff to bring her in.
"She is a character that brings positive energy off the pitch and on the pitch and it's good to have her back. Her experience, the way she plays, she's different than other players on the wing, she brings different things so that's good we have different opportunities again. Off pitch gives us some extra energy."
England are currently third in Group A1 of the Nations League following a disappointing 3-2 loss to Belgium last month, their second defeat in four group matches.
Plenty is at stake in the competition as the winners of League A will reach the finals, which act as Europe's 2024 Olympic qualifiers, meaning that hopes of a qualification spot in Paris are in danger for Team GB.
With two games remaining to try and turn things around, Wiegman insists England's preparations will remain the same and has called on her side to be "more ruthless" in the final third.
"I think the Belgium game, the difference of us to them was so big," she said.
"That last result was not a reflection of how we were in camp. Yes we're in a situation where we absolutely need wins, we know that, we're aware of that.
"When we go into a camp we want to win games. We haven't done that lately in all our games and that's what we want to do.
"Our approach will not all of a sudden change, we just review our last game, we prepare for the Netherlands first and the process we do will not be a lot different because I think we still do good things, we have to do better in moments of the game.
"In the final third we create a lot of chances but have to be more ruthless and we have to be aware of the counter-attack, be better and tighter on the ball."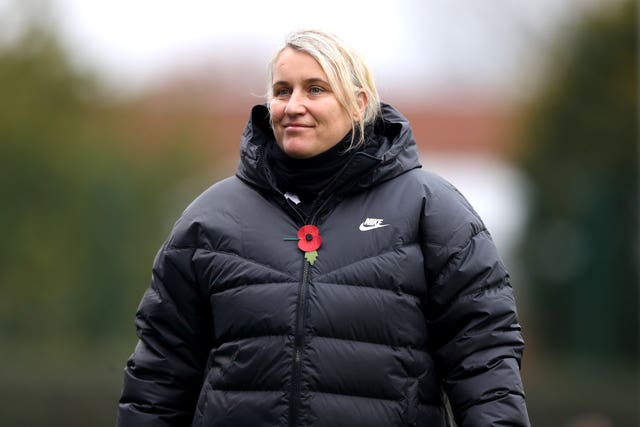 Wiegman also took time to congratulate Chelsea manager Emma Hayes on her appointment as new head coach of the United States women's team, a role she will take up at the end of the season.
"She's done a tremendous job, incredible results she's had over a decade," Wiegman added.
"I think for her it's good to move on and I congratulated her of course with the new job, it's very exciting for her. For her it's really good and overall in the bigger picture it's good for the women's game too."